Penthouse T6 * Acabamentos nobres * Vistas Mar* » Ao Aviz » Porto
2 000 000 €
4 598 €/m²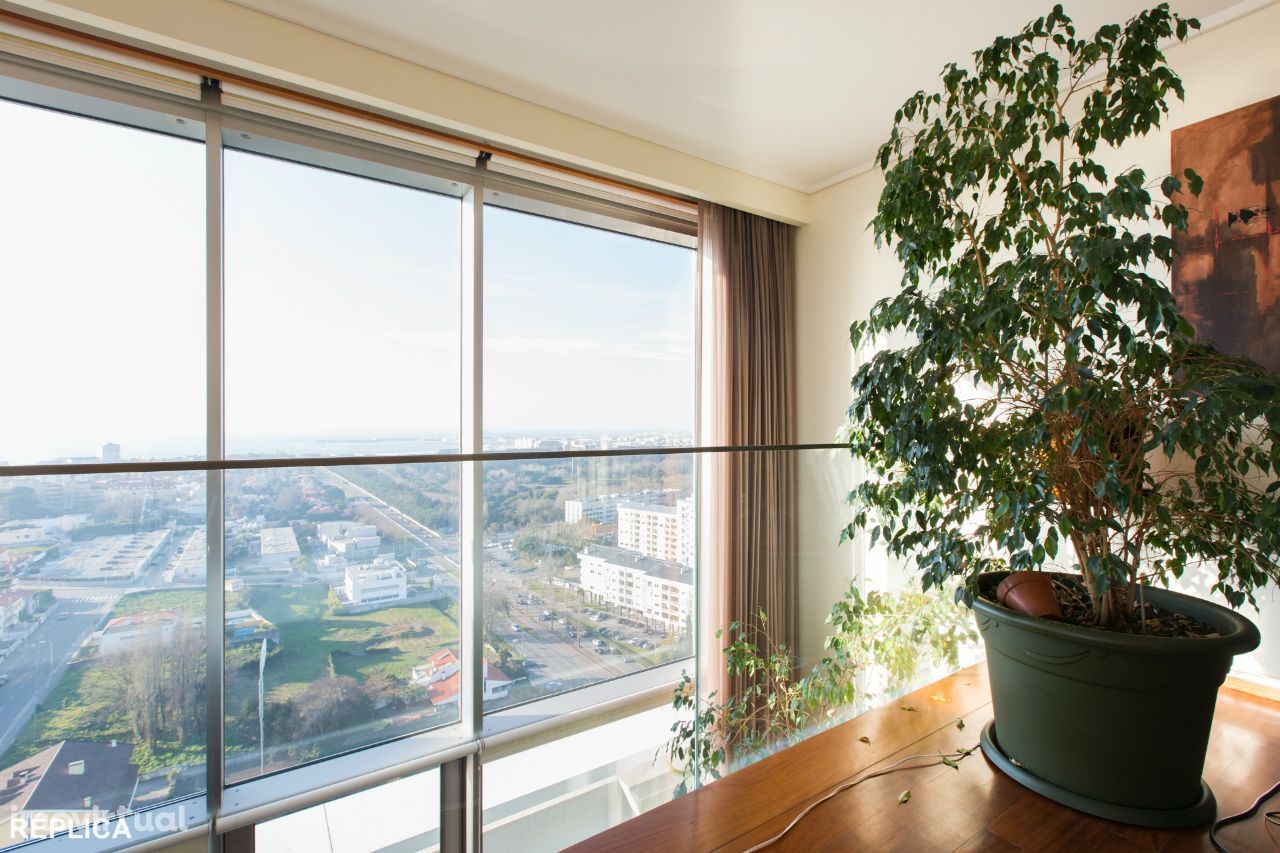 Description
Cobertura T6 Duplex no Aviz

Localizado junto à Avenida da Boavista, este apartamento beneficia da proximidade ao Parque da Cidade, a 250m e que se estende até ao mar.
Insere-se num dos edifício mais altos da cidade, condomínio de referência, com portaria e integrado na zona comercial de luxo do Aviz.
Colégios e escolas a poucos metros.

Esta penthouse beneficia de 3 frentes, a nascente, sul, poente, e tem uma vista inigualável sobre o parque da cidade e a imensidão do mar, que perdemos de vista até ao farol de Leça da Palmeira!

O apartamento era originalmente um T6, mas foi convertido em T5.
Divide se em 2 pisos, sendo que o piso 0, é composto por hall entrada, wc social, sala principal, varanda, cozinha, lavandaria, 1 suite, 2 quartos e wc completo. O piso 1, menos formal, compõe se por uma sala toda envidraçada para um solarengo terraço, com privacidade total, 1 suite e 1 quarto e wc completo.
O apartamento está revestido com acabamentos nobres, destacando-se soalho em madeira maciça, casas de banho e cozinha revestidas em pedra natural de mármore, aquecimento central gás, lareira, caixilharias com isolamento térmico e acústico, entre outros.

Complementa-se com 4 lugares de garagem e arrumos.

Marque já a sua visita junto de um dos nossos consultores imobiliários.

RÉPLICA, uma referência imobiliária.
Com 30 anos de atuação no mercado nacional, aplicamos as boas práticas e metodologias que privilegiam Proprietário e Comprador, proporcionando os melhores resultados para todos os intervenientes.
Trabalhamos com um posicionamento de rigor na prestação de serviços imobiliários, apoiando a nossa atividade na experiência da nossa equipa de profissionais e em soluções eficazes de publicidade e marketing.
Garantimos a máxima discrição e serviço de excelência.
Sem preocupações - nós tratamos de tudo.
T6 Duplex coverage in Aviz

Located next to Avenida da Boavista, this apartment benefits from the proximity to Parque da Cidade, 250m away, and which extends to the sea.
It is located in one of the tallest buildings in the city, a condominium of reference, with concierge and integrated in the luxury commercial area of ​​Aviz.
Colleges and schools just meters away.

Eata combed up benefits from 3 fronts, the east, south, west, and has an unparalleled view over the city park and the immensity of the sea, which we lose sight of until the lighthouse of Leça da palmeira!

The apartment was originally a T6, but has been converted to a T5.
It is divided into 2 floors, the ground floor of which comprises an entrance hall, guest toilet, main room, balcony, kitchen, laundry, 1 suite, 2 bedrooms and a full bathroom. The 1st floor, less formal, consists of a fully glazed room for a sunny terrace, with total privacy, 1 suite and 1 bedroom and a complete bathroom.
The apartment is covered with noble finishes, including solid wood floors, bathrooms and kitchen covered in natural marble stone, gas central heating, fireplace, window frames with thermal and acoustic insulation, among others.

It is complemented with 4 parking spaces and storage.

To highlight some details such as:
- Armored door;
- Piped gas;
- Color video intercom
- Central Heating;
- Double glasses;
- Built-in wardrobes;
- heated towel rails;
- Hot tub;

Book your visit with one of our real estate consultants.

REPLICA, a real estate reference.
With 30 years of experience in the national market, we apply good practices and methodologies that privilege Owner and Buyer, providing the best results for all stakeholders.
We work with a rigorous positioning in the provision of real estate services, supporting our activity in the experience of our team of professionals and in effective advertising and marketing solutions.
We guarantee maximum discretion and excellent service.
No worries - we take care of everything.
Couverture T6 Duplex à AvizSitué à côté de l´Avenida da Boavista, cet appartement bénéficie de la proximité du Parque da Cidade, à 250 mètres, et qui s´étend jusqu´à la mer.Il est situé dans l´un des immeubles les plus hauts de la ville, une copropriété de référence, avec conciergerie et intégrée dans la zone commerciale de luxe d´Aviz.
Collèges et écoles à quelques mètres.Eata peigné bénéficie de 3 façades, à l´est, au sud, à l´ouest, et a une vue imprenable sur le parc de la ville et l´immensité de la mer, que l´on perd de vue jusqu´au phare de Leça da palmeira!L´appartement était à l´origine un T6, mais a été converti en T5.Il est divisé en 2 étages dont le rez-de-chaussée comprend un hall d´entrée, des toilettes invités, une pièce principale, un balcon, une cuisine, une buanderie, 1 suite, 2 chambres et une salle de bain complète. Le 1er étage, moins formel, se compose d´une pièce entièrement vitrée pour une terrasse ensoleillée, avec une intimité totale, 1 suite et 1 chambre et une salle de bain complète.L´appartement est recouvert de finitions nobles, y compris des planchers en bois massif, des salles de bains et une cuisine recouverte de marbre naturel, chauffage central au gaz, cheminée, cadres de fenêtres avec isolation thermique et acoustique, entre autres.Il est complété par 4 places de parking et stockage.Pour mettre en évidence certains détails tels que:- Porte blindée;- Gaz canalisé;- Interphone vidéo couleur- Chauffage central;- des verres doubles;- Armoires encastrées;- sèche-serviettes;- Jacuzzi;
Réservez votre visite avec l´un de nos consultants immobiliers.
REPLICA, une référence immobilière.
Avec 30 ans d´expérience sur le marché national, nous appliquons les bonnes pratiques et méthodologies qui privilégient le propriétaire et l´acheteur, fournissant les meilleurs résultats pour toutes les parties prenantes.Nous travaillons avec un positionnement rigoureux dans la fourniture de services immobiliers, soutenant notre activité dans l´expérience de notre équipe de professionnels et dans des solutions de publicité et de marketing efficaces.Nous garantissons une discrétion maximale et un excellent service.
Pas de soucis - nous nous occupons de tout.
Additional info
Accessibility for the disabled
Alarm
Central heating
Closet
Storage
Central Vacuum
Water Boiler
Equipped kitchen
Pantry
Fire Detector
Elevator
Electric Shutters
Optic Fiber
Piped Gas
Whirlpool/Jacuzzi
Fireplace
Armoured Door
24 hour surveilance
Suite
Terrace
Balcony
Video Intercom
Surveillance/security
City view
Sea view
Offer price report
Apartments T6, Porto
Based on prices from Otodom service