Monte Alentejano, T3, com 6,5ha
375 000 €
2 389 €/m²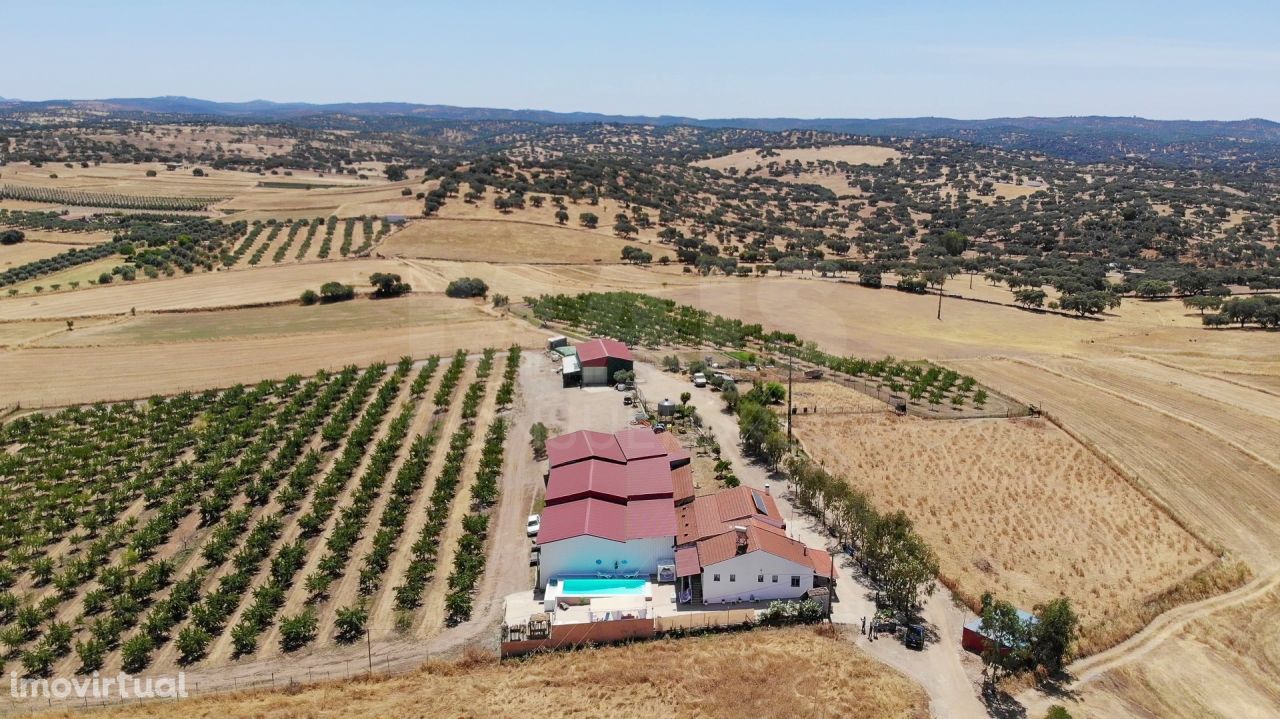 Description
Bem vindo/a ao Monte Calvário,

Situado mesmo à saída da bela aldeia de Santo Aleixo da Restauração, no concelho de Moura, distrito de Beja, esta lindíssima propriedade é ideal tanto para quem procura a tranquilidade, conforto e o contacto com a Natureza que o Alentejo oferece, assim como para quem procura um terreno para trabalhar a terra e todos os seus atributos.

A aldeia situa-se a 30km da cidade de Moura, 20km da fronteira com Espanha, 40km da Barragem de Alqueva, 21km da vila de Barrancos e a distâncias compreendidas entre os 50 e 65km das praias fluviais de bandeira azul, como Amieira e Reguengos de Monsaraz.

Propriedade constituída por uma área de 6,5 hectares, nos quais podemos encontrar uma vasta plantação de 1.200 amendoeiras que se alastra desde a parte Sul do terreno, até aos limites da aldeia, a Norte. Também na parte Sul, há uma horta com grande diversidade de plantação de legumes da época completamente biológicos. No terreno existem duas fontes de água para rega, sendo uma torre de água de 12.000 litros e um depósito principal, de 60.000 litros, que suportam da rega de todas as plantações da propriedade.

Na parte construída da propriedade há um armazém enorme com 1000m2, com espaço para várias viaturas e máquinas agrícolas, que também tem 12 boxes, prontos para receber cavalos, ou mesmo para servir de armazenamento. O armazém mais pequeno, com cerca de 400m2, pode ser usado como garagem, onde cabem também várias viaturas.

Na parte de habitação, a propriedade conta com uma sala de estar com salamandra, três quartos, duas casas de banho e uma cozinha. Adjacente à habitação, há ainda, um espaço de lazer, com cozinha e lareira alentejana, ideais para os dias mais frios do inverno e outono. Na parte área exterior há um espaço ótimo com uma piscina de 4x10m, espaço de conforto para receber amigos e familiares, e ainda um espaço para fazer churrascos. Tudo isto enquanto se disfruta de uma vista privilegiada da aldeia de Santo Aleixo da Restauração.

Não perca a oportunidade de conhecer esta maravilhosa propriedade.

Prestação mensal de 810,36€ para o financiamento a 90%, spread de 1,25% com prazo a 40 anos. Acresce o valor do seguro. Solicite já a sua simulação gratuita!

A #Compasso by Mais Consultores está registada no Banco De Portugal como intermediária de crédito nº. 0006455. Procuramos por si as melhores opções de financiamento do seu crédito habitação, de forma gratuita, com rapidez, conforto e segurança.

________________________________________________________________________________
Welcome to Monte Calvario.

Situated just outside the beautiful village of Santo Aleixo da Restauração, in the municipality of Moura, district of Beja, this beautiful property is ideal for those looking for tranquility, comfort and natural landscapes that Alentejo offers, as well as for anyone looking for a nice piece of land to develop.

The village is located 30km from the city of Moura, 20km from the Spanish border, 40km from the Alqueva Dam, 21km from the village of Barrancos and at distances between 50 and 65km from the blue flag river beaches such as Amieira and Reguengos de Monsaraz.

Property consisting of an area of 6.5 acres, in which there is a vast plantation of 1,200 almond trees that spreads from the southern part of the land, to the limits of the village, to the north. Also in the southern part, there is a vegetable garden with a great diversity of completely organic vegetables. On the land there are two sources of water for irrigation: a water tower of 12,000 liters and a main deposit of 60,000 liters, which support the irrigation of all the plantations on the property.
In the built part of the property there is a huge warehouse with 1000m2, with space for several vehicles and agricultural machinery, which also has 12 boxes, ready to receive horses, or even to serve as storage. The smallest warehouse, with about 400m2, can be used as a garage, which can also accommodate several vehicles.

In the housing part, the property has a living room with a wood burning stove, three bedrooms, two bathrooms and a kitchen. Adjacent to the house, there is also a leisure area, with kitchen and fireplace from Alentejo, ideal for the coldest days of winter and autumn. In the outdoor area there is a great space with a swimming pool of 4x10m, comfort space to receive friends and family, and even a space for barbecues. All this while enjoying a privileged view of the village of Santo Aleixo da Restauração.

Don't miss the opportunity to discover this wonderful property.
Additional info